NFPA 70E is a major safety standard that impacts any worker who is exposed to electricity in the workplace.
But, there's a lot of confusion around what the standard is, what it requires, and whether or not it's required by law.
This article is designed to help clear up some common questions about NFPA 70E for anyone who needs to know more about this important workplace safety tool.
What Is NFPA 70E?
NFPA 70E is a safety standard developed by the National Fire Protection Association (NFPA).
It is one of many safety standards that the organization has developed, and many are labeled with the letters "NFPA" and a subsequent number and/or letter.
NFPA 70E specifically deals with electrical hazards in workplaces. By outlining a series of "safe work practices," says the NFPA, 70E "helps companies and employees avoid workplace injuries and fatalities due to shock, electrocution, arc flash, and arc blast."
NFPA 70E includes guidance and rules on the following:
Work practices and procedures.
Safe work environments.
Maintenance.
Substations and switches.
Premises wiring.
Controller equipment.
Fuses and circuit breakers.
Batteries and battery rooms.
Portable electric tools and equipment.
Safety and protective gear.
Electrolytic cells.
Lasers.
Research and development laboratories.
It also includes a series of annexes and tables that companies and/or workers may need to reference when implementing the guidelines and rules.
As of writing, the latest version of NFPA 70E in English is the 2018 edition. The 2018 edition of the safety standard includes the latest guidelines on safety-related work practices, maintenance requirements, and equipment requirements that companies and employees should follow.
These include a series of recommendations on how to construct and maintain electrical systems. According to Electrical Contractor: NFPA 70E's various recommendations follow a broad four-step approach:
Turning off electrical power while working whenever possible.
Having customers sign an "Energized Electrical Work Permit," which "describes the work to be performed and why it must be performed live."
Writing down a plan to perform live electrical work safely.
Using personal protective equipment (PPE) like flame-resistant (FR) clothing.
Where Does NFPA 70E Apply?
According to Electrical Contractor, NFPA 70E covers "workplaces," which include construction sites. Workplaces could include any place where electrical construction and maintenance occur, but NFPA 70E is "enforced most often on construction sites and in industrial plants."
When Did NFPA 70E Start?
NFPA 70E started in 1979 with the publication of the first edition guidelines.
Is NFPA 70E Required by Law?
You are not required under OSHA guidelines to comply with NFPA 70E. However, the NFPA says "OSHA looks to the prescriptive-based requirements of NFPA 70E to fulfill the performance-based requirements included in its standards."
The way the organization puts it, OSHA is a legal requirement that companies and personnel must follow, but NFPA 70E is a series of prescriptive guidelines that help you actually comply with the electric safety rules mandated by OSHA.
Notes Electrical Contractor:
"Although OSHA is federal law, its language often is more general; therefore, NFPA 70E is frequently used to define specific details for protection against electrical hazards, such as electric shock and arc flash."
It should also be noted that, according to electrical equipment manufacturer Meltric, NFPA 70E compliance is assessed by OSHA when electrical injuries occur in the workplace.
Is NFPA 70E Certification or Training Required?
It is not, but NFPA 70E training is often a smart move. Notes Safety and Health Magazine:
"NFPA 70E is considered the consensus industry standard for electrical safety practices, so even though OSHA does not call for NFPA 70E training specifically, it remains the best option for worker safety and compliance."
Where Can I Find the Full Text of NFPA 70E?
It is highly recommended that you reference the full text of NFPA 70E before making any decisions or taking any actions related to these guidelines. You can read the full text of NFPA 70E 2018 in English with a free NFPA account.
How Does NFPA 70E Apply to Personal Protective Equipment (PPE)?
As part of NFPA 70E guidelines, electrical work is rated to determine if personal protective equipment (PPE) is required in any given situation. Arc flash hazards are a major concern here. If an arc flash is possible, the right PPE needs to be used, according to NFPA 70E.
To determine the right PPE, you must pick one of two methods, according to Grainger: an incident energy analysis method or an arc flash PPE category method. You can't use both.
The incident energy analysis method calculates "the incident energy and flash boundary" based on tables within the NFPA 70E guidelines. These calculations then map to specific types of PPE listed in NFPA 70E. For each piece of PPE, NFPA 70E tells you if you must select a specific type of PPE for certain scenarios or use different PPE items "as needed."
With the arc flash PPE method, you use tables in NFPA 70E guidelines to determine "the arc flash PPE category and arc flash boundary based on the equipment being evaluated," says Grainger. Once you figure out the category, tables are provided to help you find the appropriate PPE.
How to Get NFPA 70E Compliant Personal Protective Equipment (PPE)?
NFPA 70E compliance can sometimes be difficult to understand or confusing to apply to PPE. We're here to help.
At Model Apparel, we can start getting you set up with a professional, compliant uniform program in minutes, thanks to our extensive inventory and super-efficient software. That includes NFPA 70E compliant PPE.
When you work with Model Apparel, you get:
Professional, compliant uniforms. We serve every industry, including oil and gas, transportation, facilities management, utilities, service providers, and education.
Every product and size you need. We've got all the professional, compliant garments you need, and stock them in every size from Small to 6XL.
No-hassle ordering. Our custom online system removes all the messy paperwork and organizational headaches from the process.
Fast order fulfillment. Most orders are ready in days, not weeks.
Trusted service. For 30 years, companies like Dunkin', John Deere, Marathon, Stoney's Beer, Fortis Energy, and hundreds of others have trusted us to deliver quality uniforms on-time and on-budget.
You have plenty to do today. Let's check uniforms off the list. Click the button below to get started.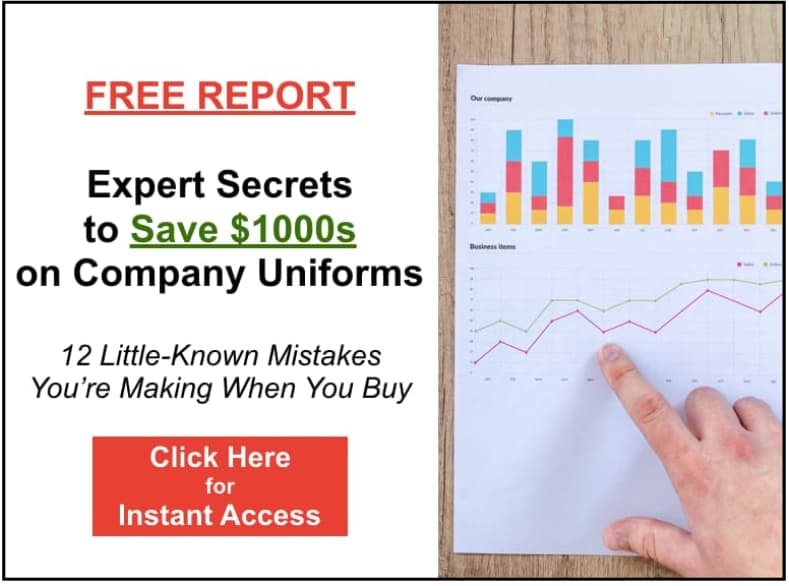 Topics: Workwear, Workplace Safety