You can never be too careful when working in particular conditions. While many workers do not work in hazardous environments, others have no choice. They work in conditions that are less than ideal when it comes to safety.
This doesn't mean that employees and their employers should worry about these conditions. As long as you remain educated on the latest regulations and standards, there isn't anything to worry about.
In this article we're going to take a deeper look at flame resistant PPE. We'll define PPE and the importance of it. We'll identify industries that need to pay close attention to PPE. We'll also look at some garments that comply. We'll also reference industry standards that establish requirements for FR garments.
Flame Resistant PPE Defined
PPE stands for personal protective equipment. PPE is anything that a worker wears to protect themselves from a hazardous environment. Some of the most common types of personal protective equipment you might be familiar with are safety glasses, hard hats, and steel/composite toe boots. Besides these types, PPE also refers to other safety gear like coveralls, full body suits, and jackets that protect the person wearing them.
After determining the PPE need in your workplace, the most common question to ask is:
"What PPE is right for my environment?"
You must select the right garments based on the unique hazards of your industry. You'll also want to consider more factors like durability, comfort, and laundering.
To identify the proper PPE for your workplace, you must perform a Hazard Assessment. Federal regulations need employers to assess their workplace to determine if hazards that require the use of PPE are present or are likely to be. You can use a checklist as you walk through your workplace to identify potential hazards. Once you determine the potential hazards, you can then select the right PPE to wear.
Flame Resistant PPE examples
The examples of flame resistant PPE below are items from Bulwark. While there are many other manufacturers of flame resistant PPE, Bulwark is arguably the most recognizable.
Coverall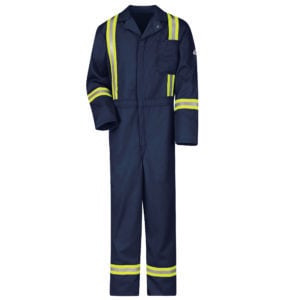 The CECT coverall from Bulwark is a top selling item in flame resistant PPE. This coverall features a two-way concealed Nomex® taped brass break-away zipper and a concealed snap at top of zipper and at neck. It has 360 ° visibility with FR yellow/silver/yellow reflective trim. This garment meets the NFPA 2112 "Standard on Flame Resistant Garments for Protection of Industrial Personnel Against Flash Fire".
Parka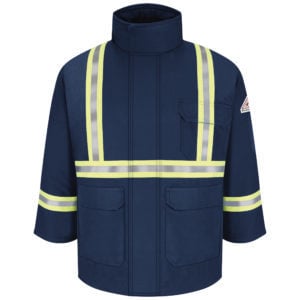 The JLPC parka from Bulwark is a popular item, especially in cold weather climates. An insulated storm flap covers the two-way separating, heavy-duty Nomex® taped brass zipper. 360° yellow/silver/yellow reflective striping keeps the wearer visible from any angle. With an Arc Rating of ATPV 43.3 calories/cm², this item also meets the NFPA 2112 standard.
Arc Suit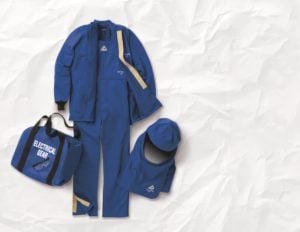 The Bulwark Arc Suit represents what most people imagine when they think of primary protective equipment. An FR coat, bib and hood comprise the suit. When purchased as a kit, a hard hat and safety glasses are also included. The arc suit is interesting in that it meets both the NFPA 2112 and the NFPA 70E "Standard for Electrical Safety in the Workplace". For a more in-depth review of the arc suit, check out The Bulwark Arc Flash Suit: A Comprehensive Review.
Industries requiring Flame Resistant PPE
As mentioned earlier, not all work environments require workers to wear flame resistant PPE. In fact, there are fewer industries that have these requirements than one's that do not. If you work in these industries, or similar ones, you should already be aware of the importance of FR PPE.
One industry that requires a level of PPE is Oil & Gas. This industry includes exploration, drilling, refinement, chemical, and field services. FR PPE is required in some capacity here as there is a chance of a flame moving rapidly through a fuel source without creating blast pressure. This fuel source could include oil, refined gasoline and natural gas. While NFPA 2112 establishes the garment standard protecting against flash fire, NFPA 2113 focuses on how employers or individuals would choose the proper garments for their environment.
Another industry where FR PPE is heavily used is the Electric Utility industry. This industry has workers that work in the generation, transmission, distribution and metering of electric power. The potential for arc flash hazards leave these workers exposed. NFPA 70E requires clothing for any potential exposure above 1.2 cal / cm2, which equals the onset of a second degree burn. Other employee roles in this industry include electricians, operators and maintenance workers.
Now that you have a better understanding of what flame resistant PPE is, can you identify these kinds of items in your uniform program? If you've completed your Hazard Assessment, have you identified the right flame resistant clothing for your program? Let us know if there is anything we can do to help you set up the right uniform program to keep your employees safe.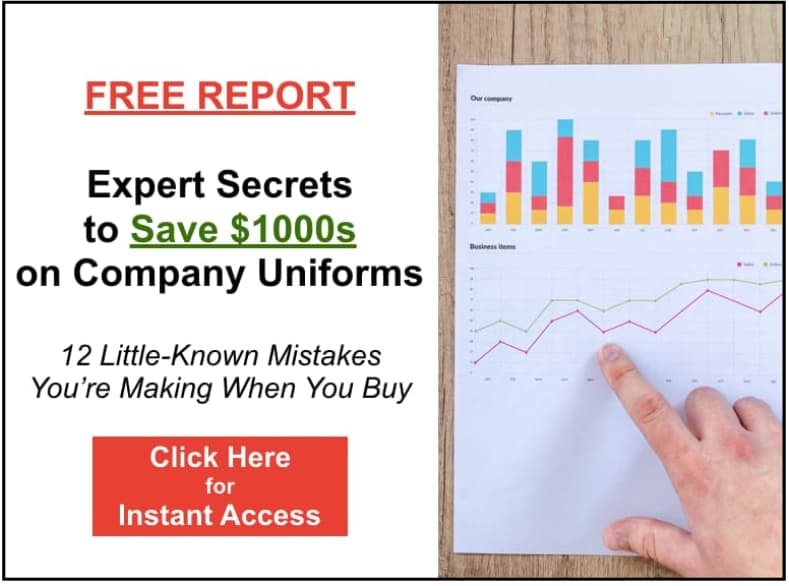 Topics: Flame Resistant