In a previous post, we covered the cost associated with starting up an employee uniform program. Those costs are tied to what you can expect to pay in getting your employee uniform program started. Here, we will cover the on-going, annual average cost or allowance that you would give to your employees. While you can have your employees use their own funds, we have found that the ROI of your investment will be minimal.

Identifying the needs and goals of your team
Is your goal to provide an employee uniform program that meets specific company brand standards? Is the goal to drive a positive team-like environment and look professional while out in the community? Is it more of a need for your workforce to be industry compliant, where everybody is required to wear high visibility or flame resistant (FR) uniforms.
After identifying the main reason for wanting an employee uniform program, next you need to ask yourself or your decision-makers the following questions:
Does my team work all indoors, or are they exposed to seasonal outdoor elements as well?
Some companies have employees who work both inside and outdoors, and need a more robust uniform offering. A potential uniform shopping cart could potentially include a work shirt, belt, pants, polo, and outerwear. This would vary upon job type, the season, and the industry the company operates in.
No matter the environment, find a uniform supplier that can build a uniform store tailored to your team. You and your employees must be able to easily order uniforms that fit the work they do. You shouldn't have to work with a supplier that doesn't want to make your ordering experience better!
Are they in an OSHA enforced industry?
Industries where a company's employees are exposed to potential dangerous situations are companies that need to be compliant with OSHA regulations. In OSHA 29 CFR1910.269, it states:
"The employer shall ensure that each employee who is exposed to the hazards of flames or electric arcs, could increase the extent of injury that would be sustained by the employee. This apparel standard applies to all apparel worn by an employee exposed to the hazards of flames or electric arcs."
Such companies need to outfit their teams in FR clothing, which becomes an added layer of defense against potential flames and arc flashes. It's important to note that every element of the garment is inherently FR and will not melt or drip when exposed to a flame.
Will the employees need a polo for corporate branding or for conferences and events?
Outfitting your staff with a polo can have many positive results on the organization because it:
Identifies your staff from the other people at a venue or event and associates that person to the company. This can be valuable when speaking with potential clients or customers.
Creates a sense of pride and teamwork, just like any team who is all wearing a jersey. It gives a sense of unity among your staff.
Becomes extended brand advertising, as your employee is out in the community they live and work in.
What is the average cost per employee for a uniform program?
Knowing where to set the budget for each employee has many factors that can be tied to this decision, as we have already discussed. Next, we'll give a couple of examples:
A cable company with a team of 350 to 400 employees, gives their employees an average of $175 to $300, to spend annually. The employee's company uniform store includes:
Gloves
Rubber overshoes
Fleece-lined beanie
Fleece headband
Relaxed-fit jeans
Cargo pants
Work wear shirt, both long and short sleeve
Polos
Shorts
Outerwear
Coveralls
The list covers almost everything that your staff would need for the whole year and ensures they are branded to fit the company's standards. You or your employee can decide which articles need replaced when placing their order.
Doing the math of 350 employees spending an average of $250 on newer uniforms, your company can expect a uniform expense of $87,500 for that year.
Another example would include a public utility company, who has a team of 800 employees, across a state and gives their staff an annual max budget of $625.
The last example is of an oil and gas company gives their employees a $1,000 spend. This budget would be making sure they have five pair of pants, five long-sleeve shirts, an insulated jacket, and bibs. It's important to note, that the oil and gas company needs flame resistant and high visibility clothing. This makes sure industry compliance is met and the fact that safety is always the number one value for almost all of these energy-type companies.
From these examples, various industries can have varying budgets. To determine your costs for a uniform budget, you must first identify a ballpark budget. Then go through the average day of your team to decide what they will need to wear to do their job. If you're just getting started with a uniform program, we'd be happy to help you build the right program for your business and team.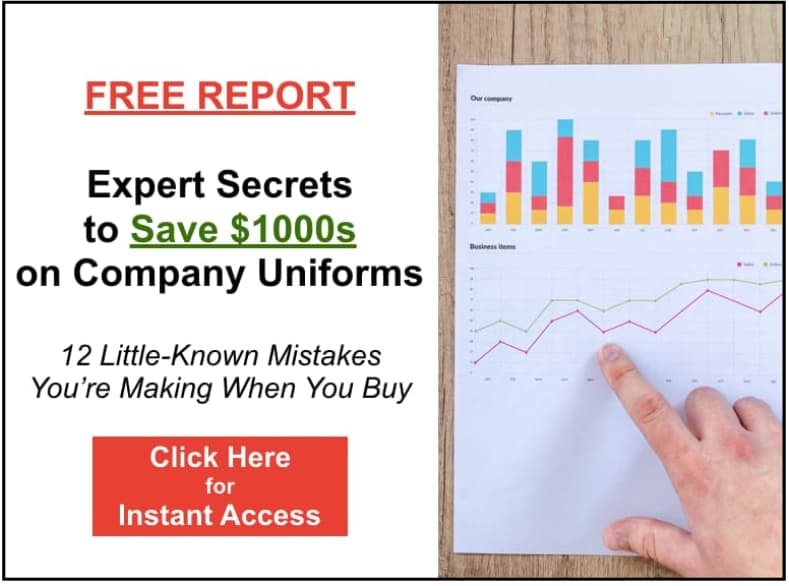 Topics: Uniform Program