Are you looking to put your staff into a professional, company branded uniform? Is brand recognition and recall important for your type of business? If you have said yes to any of these questions, then you might want to consider a personalized, private uniform store. Understanding what costs are associated with a private uniform store and the cost behind the e-commerce software is step one.
As you may know, there are multiple solutions that your business could use to put your employees into a uniform. Perhaps you order through a specialty decorator, who brands the uniform of choice. Or you could just buy an unbranded shirt from the local retailer, but doesn't there have to be a better way?
Isn't there a way you can do this with more fluidity and less headache? Sure there is! In this article, we will look at all those cost that are associated with a private online uniform store, ranging from hosting and software, to website management.
What Is An Online Uniform Clothing Store?
If you aren't familiar with an online uniform store, this is where you are provided your very own online store, where employees and end-users can order their uniforms or corporate-branded clothing.
These stores can vary and offer a wide range of products, all the way down to predefined shirts, polos, jackets, hat, and pants. In almost all cases, the manager or purchasing agent decides on what articles of clothing are needed to outfit the team, in the most branded look possible. Another thing to consider, depending on industry, is will you need industry compliant clothing? This is all setup on the front-end, along with final decision of logo, for a brand consistency.
When you decide to go with a private store, your employees will have the ability to log-in and buy predetermined uniforms, and as a result, increase brand recognition within the communities they work in.
There are many reasons to provide your team with a branded look or uniform, starting with the corporate staff.
Think about it: you go to a sporting event, whether that is a professional baseball, football or NCAA game and what does everyone wear?
They wear a shirt or jersey that aligns them with the team of choice and who they are rooting for. A business can build that same camaraderie with their staff.
Another benefit from outfitting your team is that it can increase employee engagement and commitment to the company. If your staff is front-facing with the community, then this can identify your company and bring a sense of security as your staff works in and around residential neighborhoods.
So with all these benefits, what is it going to cost?
Initial Setup Cost Of A Private Uniform Store
Standard costs can include an initial setup fee for your private uniform store. These costs can range from $900, all the way up to $3,000.
Some providers will also charge you a monthly servicing fee and this can be as low as $150, but once again, it can go up from there.
Licensing cost summary of a private uniform store
Estimated Setup – $900 to $4,000
Estimated Monthly – $150 to $500
Potential Ongoing Cost Of A Private Uniform Store
One of the most important elements of having your own private uniform store will start with the graphic design and website designer. These services will usually be an hourly rate and can be broken down into a standard labor and custom programming.
The custom programming allows you, the end user, to decide if you want or need any special features to the typical private web store. Customizing your private web store can result in a higher hourly rate.
Design of web store cost summary
Cost Of Additional Monthly Orders
Some uniform software providers will tack on an additional charge, depending on the amount of monthly orders your company makes. Typically you can expect this amount to start at $100 and go up from that point. Below is a break-down of these charges, but vary depending on your software provider.
Quantity Monthly Orders
2,501 and more – Custom Quote
What Does Model Apparel Charge For Uniform Ecommerce Software (Web Store)?
As you can see, the initial and ongoing cost can start adding up and this is before your employees have placed their first order.
So what does Model Apparel charge you, for us to create your private uniform web store? Simple answer: a logo digitizing fee.
This fee can range between $30 to $50, depending on the logo elements. This is a one-time fee when creating your private uniform store. Your store is completely free and the only cost you incur comes from the uniforms your employees buy, if you are providing them with a budget to order. Most companies we work with will provide their employees with a yearly budget and this can be split up for seasonal changes.
Benefits Of Choosing Model Apparel
The store administrator (known as a Level-2 user) will have a complete toolbox for tracking and managing the private web store.
Spending per employee (user)
Manage orders that are flagged for approval.
If your company is evaluating or considering a uniform program, then we would love to discuss your needs and our capabilities with you, from the available apparel to the private web store.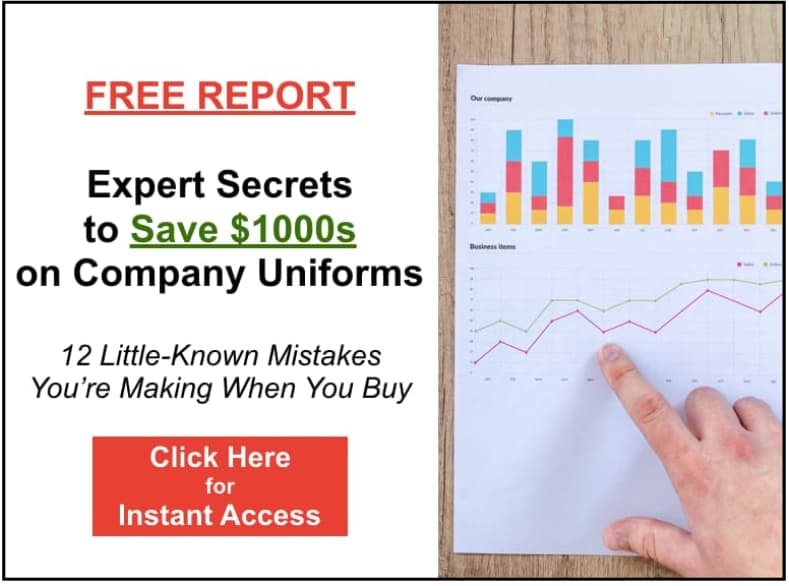 Topics: Uniform Program, Contact Thank You, About Thank You, Blog Subscribe Thank You