In today's hyper-competitive environment, companies are always thinking of ways to put themselves in front of their market and stay there. In the past, radio and television advertising were the most popular methods of reaching customers. Today, companies use websites, social media and brand advocates to communicate and connect with those interested in their brand. The most important brand advocate for any company is their employees and this is where a uniform program can help.
One thing that has always been used to identify a brand in the marketplace is an employee uniform. Most of your customer-facing companies have made an effort to have their employees in a company provided uniform or apparel.
However, there are examples where a uniform program is used for safety and security, as well. Companies that operate in an industry such as the natural gas production or transportation are required to provide uniforms or work apparel for their employees, for safety reasons.
Another example would be a company who provides residential services and would need their employees to be in a uniform. This way they could be easily identified in local neighborhoods.
Whatever the reason for having a uniform purchase program, the purpose of this article is to define a uniform program and to give a better understanding of how they're used.
So what is a uniform? In the business use, we can define a uniform as a distinctive clothing worn by members of the same organization.
Which brings us to the next question, what is a uniform program? A uniform program can be defined as a system that is put into place, to enable a company to outfit their employees in branded apparel.
Uniform programs take on all shapes and sizes and companies can use them in a number of ways. We'll address what a typical uniform program "looks" like and how companies use them.
Uniform programs keep a company's brand message consistent
When a company decides to use a uniform program, they're committing to putting their employees in company branded apparel. What is company branded apparel?
Company-branded apparel is clothing that an employee can wear while at work, which incorporates the company logo with a brand standard established by the company.
Think of delivery drivers for UPS. If you've ever had a package delivered to you by UPS, you know exactly what a UPS delivery driver is supposed to look like. UPS, as a company, decided that their highly visible employees would wear:
Brown pants or shorts

Brown shirt

Brown jacket

Various UPS accessories
This concept allows public facing employees to be easily recognized while at work and increases the awareness of the company brand in their communities.
Uniform programs keep company employees safe while on the job
The energy industry today is a great example of how companies use uniforms to keep their employees safe. For instance, in the natural gas transportation industry, regulations have been mandated to keep people who work in such environments safe from flash fire.
This means that a particular type of work apparel is manufactured to meet the needs and requirements of the industry. Uniform programs that serve this industry may look similar to our generic example mentioned earlier, but they may also vary greatly.
An example of a uniform program would be an O&G company providing a complete head-to-toe uniform, which would include multiple apparel pieces meeting FR requirements.
Depending on the requirement, additional apparel items may be considered, such as:
Flame resistant base layer garments

Flame resistant parkas and bib overalls

Protective eyewear

Protective headwear
While the primary reason for utilizing a uniform program here is safety, the company is still promoting brand awareness because its employees are wearing the company logo which makes them easily identifiable in the community. Even though this example is more safety-driven, they could also choose to add professional corporate apparel, such as polos or button-up shirts, for employees in different departments.
Uniform programs are utilized to increase employee morale
Think about your favorite sports team, and the one thing they usually have in common is a team uniform. Then think about the fans, they identify their allegiance by the apparel of their team of choice.
Depending on your perspective, increasing employee morale is either the least important factor in establishing a uniform program, or it is more important than any other reason.
According to a Red Kap and Tower Watson study, 19.2% of companies reported a high level of employee engagement, due to a uniform program.
Employee engagement and team mentality have a direct effect on employee commitment.
In fact, the Human Capital Institute found that a 1% increase lead to a monthly sales increase of 9%. Wow!
What would a 9% increase look like for your business? Even 5%?
So what are some ways that a uniform program will help increase the employee morale? While you might be able to come up with some of your own for your business, here a few:
Helping to make employees feel more like members of a team / something bigger than themselves

Reassuring employees that they aren't responsible for providing their own work apparel so they aren't wearing down their own clothing

Gaining support from employees toward the company as a whole
Regardless of your level of involvement with your company, promoting the concept of utilizing a uniform program for company employees, to boost employee morale should be at the top of your list.
So now that you've gained a greater understanding of what a uniform program is, does your company have or need one? It's important to remember that a uniform program is an investment into your employees and into your company. Increasing company morale and fostering that "we are a team" mentality can help lead to increased productivity, increased sales, and lower employee turnover.
Now that you've seen the various ways companies like yours use uniform programs, do you see the value they provide? If you have additional questions regarding how a uniform program can be a fit for your company, schedule a free consultation with us so we can help you assess the value of our solution for you.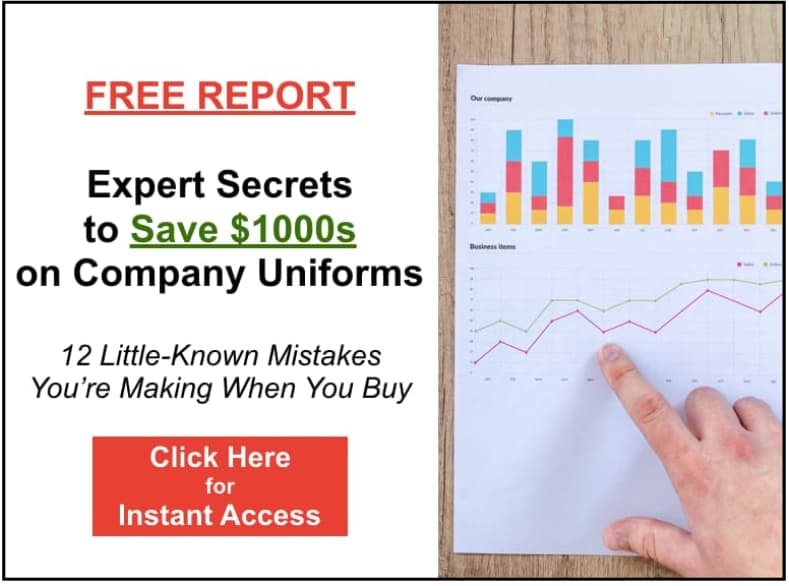 Topics: Uniform Program