Should you purchase your company's uniforms from an online store or a physical store?
For generations, the brick and mortar store was the king. It didn't matter what you needed. You would get in your car (or walk) to the grocery store for food. If you needed something hemmed, you would go to the local tailor's shop or home. Toys for children's birthday parties needed to be purchased in the store. Then along came the internet.
Now the physical store location is a thing of the past. Sure, there are still stores you can go to get what you need. But even many companies have websites that allow you to buy the same things you can get in their store without leaving your couch. You can even order food online and have it delivered to your home.
But does this mean that the physical store does not have a place in today's economy? In this post, we'll compare the online store to the physical store. Specifically, we'll dig into the online and physical uniform stores. There are benefits and shortcomings to both but after reading this, you'll know which is a better fit for your business.
The Online Uniform Store
Advantages of an Online Store
The best thing about having an online uniform store is the ease in which you can access information. By logging into your private store, you're able to:
View the status of current orders
Track individual orders once they've shipped
Manage employee spending limits
Download invoices for reconciliation or payment
You can access this information in a few clicks.
Another benefit to the online uniform store is the standardization of communication. We live in a world of ongoing notifications. We receive communication after completing just about any task. So why not get notified when placing your order? Why not take part in receiving your invoices via email for your uniforms?
Disadvantages of an Online Store
The number 1 reason the online uniform store is less than ideal is the inability to see and touch your uniform. We can debate this point as there are solutions for it. But, for the purposes of this conversation, let's say you use a private online store to order employee uniforms. You've identified the various apparel styles that will make up your company uniform. You have dozens, maybe hundreds, of employees to outfit across many locations. Now what?
Because you have so many employees to put in uniform, you already know you'll get feedback from them. They'll want to know how the items fit before they place their order. They'll ask why the size they bought doesn't fit. They will ask you to process their returns and manage their re-orders. This is not what you're signing up for.
The easiest solution for this is to order a fit line of most, if not each, of the items in your uniform program. This can be costly up front, but consider the long term savings as your team places their orders. You can order a fit line and have it shipped to your first location. Schedule a fitting for your team at that location. Once that fitting is complete, send the fit line on to the next location. Rinse and repeat. You only have one location, you say? You're way ahead of the game.
The Physical Uniform Store
Advantages of a Physical Uniform Store
The biggest benefit to the physical store is the same as the downside to the online store. You can actually see and touch the uniform your team will be wearing.
In our experience, this is a huge benefit to companies we work with that have larger teams. We'll often speak to the individual wearer about their uniform. They want to know how certain styles fit. Being solely an online uniform store, answering these types of questions is difficult for us. Your company can buy a fit line of your uniform for sizing purposes. This becomes harder the bigger your program is. If your uniform provider has a physical location, send your team there to try a uniform on before buying.
Disadvantages of Physical Uniform Store
One shortcoming of the physical store is that it can be tough to manage a true process for ordering uniforms. This might be easy for me to say as an online provider, because I help establish processes for ordering uniforms online. But I do appreciate the benefits of the physical store. I just have questions.
I imagine your employees walking into the store to place a new uniform order. Does this store have more of a selection than your employees can buy? If so, how do you keep your team in uniform? Surely you aren't traveling to the store with them to make sure they're buying the proper uniform and not just anything off the shelf.
Because your team can try on the styles in their uniform program, there shouldn't be many returns of defective or poorly sized merchandise. But when there are, how are those handled? Are employees losing valuable time handling uniform exceptions at the store, instead of doing their job? It just seems as though it is harder to manage a standardized program with all these variables.
To reiterate, Model Apparel has nothing against the physical uniform stores. We appreciate that the physical store serves their clients differently than we do. We've even written an article that speaks to the 5 reasons a uniform program might not be a good fit for you. Because some of these reasons mean we might not be a good fit for your company, you might be well served to order your uniforms from the physical store. Either way, we're always happy to discuss what solution will work best for you.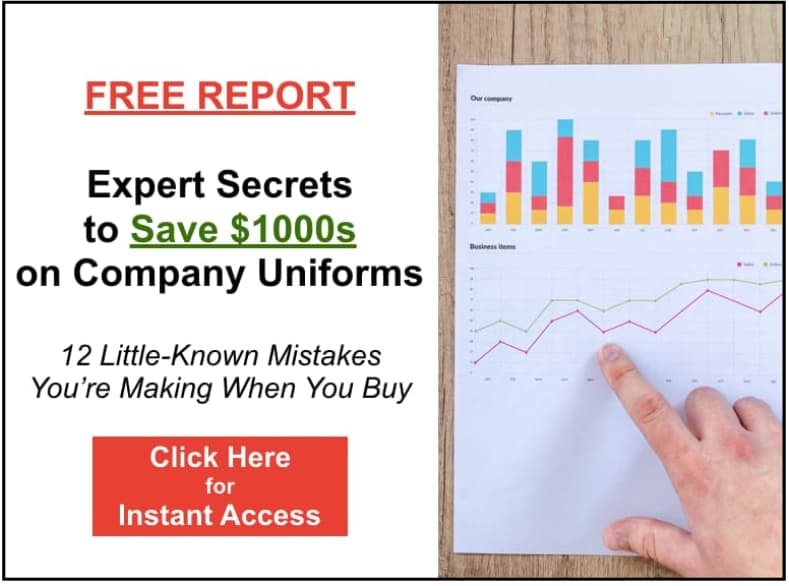 Topics: Uniform Program, Employee Uniforms