The only way to do work in certain industries is to do it safely. Many industries have no requirements because there are no work hazards. Workers work safely in offices. Office work is not one that is considered unsafe (in this context).
When we talk about unsafe work conditions that need standards to guarantee safety, we talk about industries that operate in the elements. Workers that work outside are at a higher risk of encountering hazards. Some of these occupations include:
Natural gas exploration – Workers are outdoors on pads and around compressors where natural gas, a highly combustible substance, is prevalent.

Fuel transportation – Workers transport combustible fuels from refineries to distribution terminals.

Commercial and residential trades – Workers install gas and electric lines in new buildings.
Enter NFPA 2112. The National Fire Protection Agency introduced this standard to improve safety in the workplace. But how is NFPA 2112 defined? What makes a garment NFPA 2112 certified? What industry environments need to be aware of this standard? In this post, our goal is to provide a broader understanding of NFPA 2112 so you can be safer at work.
What is NFPA 2112?
The full title of the standard is NFPA 2112: Standard on Flame Resistant Garments for Protection of Industrial Personnel Against Flash Fire.
The standard is in place to protect workers from flash fire exposures and their resulting injuries. Specifying performance requirements and test methods are key. Flame resistant clothing and the fabric that they're made of must meet these standards.
The content within the standard covers design, construction, evaluation, and certification of flame resistant garments for use by industrial personnel. The intent of the garments is to provide protection to the wearer. These garments should not contribute to the injury from the burn to the wearer. Reducing the severity of burn injuries that result from short-duration thermal exposure is also a high priority.
To access more details on the standard, visit the National Fire Protection Association page on the 2112 standard.
The impact of NFPA 2112 on industry and jobs
Earlier in the article, we mentioned identifying industries that need to be aware of the NFPA 2112 standard. While we touched on outdoor work environments, those that work indoors may also be susceptible to flash fire hazards. Let's take a look at some of the industries that NFPA 2112 affects.
The first that comes to mind is the oil and gas exploration segment of the energy industry. Workers in Oil & Gas face exposure to flash fire hazards and need garments that are NFPA 2112 certified. Natural gas extracted from the ground brings on the potential hazard. When introduced to an ignition source, this natural gas can become lethal. NFPA 2112 certified garments protect the worker by self-extinguishing after a few seconds of exposure to the open flame.
Another industry that should be aware of the NFPA 2112 standard is the commercial trades. Within this industry are workers that build and repair commercial buildings. These workers are subject to flash fire hazards when installing natural gas lines. They also face fire hazards related to electric arc flashes. We talk more about electric arc flashes in another article, but if your team works with electricity then NFPA 2112 certified garments may be a fit.
Who must follow NFPA 2112?
NFPA 2112 applies to all individuals and organizations engaged in the manufacture, distribution, sale, and use of flame-resistant (FR) clothing. The National Fire Protection Association (NFPA) developed the standard to protect workers.
Employers must follow NFPA 2112 if they require FR clothing as part of their safety program for employees in a hazardous environment. Failure to follow the standard could look like:
Failure to make sure that employee-owned flame resistant clothing is properly maintained and sanitary
Where an employer fails to provide flame resistant clothing that is of safe design and construction for the work a team does
Where an employer fails to conduct a hazard assessment to identify the potential for burn hazards where employees have exposure to flash fires
When defective or damaged flame resistant clothing is used
When an employer fails to provide, at no cost to the employee, flame resistant clothing that is used to follow the standard
Earlier in the article, we highlighted a few job types where NFPA 2112 applies. Additional, more specific use cases include:
Well-servicing operations, such as open hole work or fracturing a well
Plugging an abandoned well
Employers must make sure that employees are trained in wearing the right FR clothing that meets NFPA 2112 standards. As part of this training, workers should understand how to identify any risks associated with their workplace.
Another important factor in NFPA 2112 compliance is periodic review and inspection of FR materials used in work environments. Employers should regularly inspect any flame resistant garments worn by workers and replace them if necessary. Additionally, you should coach your team on how to properly care for their flame resistant clothing to enhance the life of the garment.
NFPA 2112 certified workwear
Regarding providing workers with the highest level of protection against flash fire hazards, NFPA 2112 certified workwear is the gold standard. To make sure this occurs, employers must select properly labeled and certified garments according to NFPA 2112 standards.
The fabrics used for NFPA 2112 certified workwear typically include wool, cotton, and certain synthetic fibers. Each material offers different benefits. Wool garments provide additional insulation for colder climates while cotton fabrics are breathable and comfortable but offer less protection than other materials.
Synthetic materials such as Nomex® provide superior protection but can be uncomfortable in hot temperatures. You should consider the climate your employees will be working in when selecting FR clothing so they can get a balance of comfort and safety.
The examples below are a sample of NFPA 2112 certified FR clothing. We've included images to show you how well these will work in your uniform program. Each image accompanies a downloadable PDF. This has critical information to help you determine which styles are best for your environment.
FR Dress Uniform Shirt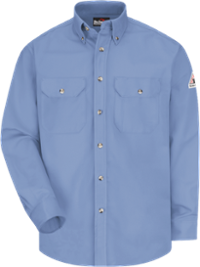 FR Long Sleeve Henley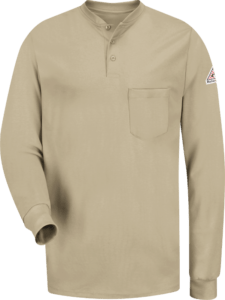 FR Relaxed Fit Jean

FR Denim Dungaree

FR Full-Zip Hoodie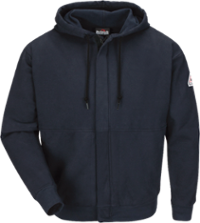 FR Parka with Reflective Trim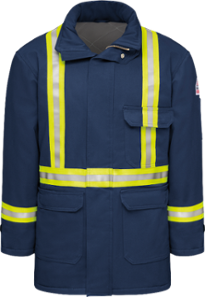 FR Bib with Reflective Trim

FR Coverall with Reflective Trim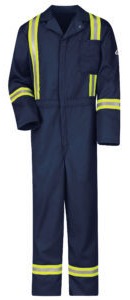 To jump right to the best flame resistant clothing products we recommend, download our guide below. You can avoid numerous catalogs of products you don't need and get your team outfitted quickly. If you feel the need to have a deeper conversation around your FR clothing, let us know. We can schedule time to talk about how the NFPA 2112 standard impacts your business.
Topics: Flame Resistant